It's not even Advent so I know I'm taking my life in my hands when I wish all of you, including the liturgical purists, a Merry Christmas but… my friends and dear readers: MERRY CHRISTMAS! 
I am so happy to present to you the 2018 Christmas Gift Guide to Empower Women! Tell'em, Michael Scott: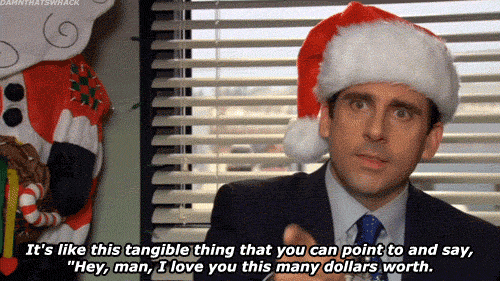 This is a Christmas tradition around here because we believe where we spend our money matters. We all know there is a lot of mindless consumerism in the world right now. So rather than aimlessly cruising the mall trying to find a random gift to buy for that one person and lining the pockets of more soulless conglomerates, we'll step out of the system and spend our money intentionally and thoughtfully with an eye on empowerment!
Because when we empower a woman, we empower an entire family and community.
(Bonus: One much-requested addition to the gift guide this year: my favourite books of 2018!)  
And yes, you absolutely can and should forward this gift guide to your significant other with a gentle HINT HINT DARLING. I know I did. (Hi, sweetie, love you!)  Happy shopping, friends!
The 2018 Christmas Gift Guide to Empower!
HOUSE OF LIGHT GOODS
My Pick: House of Light Scarf $30 CAD This warm and big scarf is lined so that it's as soft as a t-shirt while still being incredibly fashionable. Everytime I wear mine, people stop me in the street – literally – to beg me to tell them where I bought it. It's such a beautiful signature scarf especially for those in a cold climate as it's super warm.
Other favourite: the Sabinas Diamante Blanket
Special deals: 20% off with code SARAH20 (ends December 31, 2018)
How they empower women: Run by a couple of my dear friends here in town, House of Light Goods is a non-profit small business that provides empowered employment to single mothers in Primo Tapia, Mexico in cooperation with Casa de Luz and helps bring positive change to vulnerable families and children at risk. Each scarf, headband, and pillow cover is handcrafted by single mothers, enabling them to provide food, shelter and clothing for their children.
---

IMAGINE GOODS SUSTAINABLE SUPPLY CO.
My Pick:Meagan Child's Apron– $32 USD.I have a houseful of tinies who love to cook and bake with me so we always have an apron on the go. Pair this with a fantastic kid's cookbook like The Complete Cookbook for Young Chefs and you have a marvellous gift for that kid in your life who prefers to watch the Food Network over Nickelodeon. Nothing says cozy like fresh baked cookies.
Other favourites:A lovely new tablecloth orthis black and white wristlet(which I use to organize my huge tote purses…)
Special deals: 15% off with code ShopToEmpower(ends December 1, 2018)
How they empower women: Imagine Goods employs survivors of trafficking in Cambodia. They are creating products that care for the human race—giving opportunity for individuals to care for their children, families, and health. . . so that a new generation has a fighting chance to break the cycle of poverty.
ABLE 
My Pick:The Merly Denim Jacket  – $195.78 USD. This is one of their bestselling jackets and you can see why: perfectly distressed, incredibly soft right out of the box, and endlessly stylish with pretty much every single thing you own. This would be a warm, wearable wardrobe staple for years.
Other favourites: The Galaxy Earrings and of course my all-time favourite bag: The Abera Crossbody Tote*swoon*
Special deals: 30% off until December 1, 2018 with code SARAH30
How they empower women: ABLE is a lifestyle brand focused on ending generational poverty by working with women who have often overcome extraordinary circumstances. They manufacture directly in the communities they wish to impact, both locally and globally, creating jobs and ending the cycle of charity dependency. They choose to invest in women because they know that when women thrive so do their communities. They also publish their wages so you know exactly what workers who create these pieces are earning.
---

Mango + Moose
My Pick:Kantha Wrist Wrap– $48 CAD. Made with alternating patterns of wood, repurposed Kantha textiles, brass, and sustainably-harvested bone beads; these elements make this wrap bracelet a distinctive and intriguing piece for any wearer. It is one of those bracelets that opens conversations!
Other favourites: This white cloth pillow cover (requested by my near-teen in particular) andthe Belly Baskets for home organization. Or the Love Mittens for your sweetie to stay warm this winter! (You know my weakness for knitting…)
Special deals: 10% off sitewide with coupon code SARAH10
How they empower women:Through Fair-Trade Practices, all artisans – who are mainly women – receive fair wages, education, financial and technical assistance, while working in safe conditions. In addition, a Girls Education Fund has been established to help combat the reality that 64% of adolescent girls are forced to leave school early to care for younger siblings, help run the household, or for arranged marriages. Based in Kelowna, B.C., founders Tanya and Scott Donahue created Mango + Moose with the purpose of providing opportunities for communities, families, and individuals to thrive.
---
BRAVE SOLES
My Pick:The Paola $77.50 CAD –This versatile pretty clutch/wallet is available in four colours (I'm always partial to caramel or dove grey). It's made of locally sourced leather, upcycled tire inner tube accents, and has an antique brass collar button closure. It's scalloped edge is a nice feminine detail but it also has a change pocket and space for your credit cards so it's practical, too.
Other favourites:The Edwin wallet for those who prefer to travel light and we have a pair of these kids Aventura Girl sandals– our youngest wears them with everything in the summertime.
Special deals: 20% off your order with code SARAHB20 
How they empower women: The story behind Brave Soles starts in a garbage dump in the Dominican Republic but that isn't where it ends. Each shoe sole is crafted using tires from the landfills and their foundation works to provide basic necessities for landfill workers in Hispaniola.
---
STARFISH PROJECT
My Pick: Bennett Gold Circle Earrings$32.99 USD –A bit of glamour for jammie days! I'm a bit fussy about earrings with sensitive ears and so the fact that these stainless steel plated hoops with hematite beads are on 18k gold plated stainless steel hooks is a good thing. Plus The Bennett Gold Circle Earrings are equal to the cost of one week of shelter for an exploited woman.  Because of your purchase, exploited women and girls will experience freedom, establish independence, and develop careers.
Other favourites:The Clara Gold stud earrings are my literally-every-single-day earrings and I love them. Also love the Madelyn Silver bar necklace.
Special deals: 25% off all necklaces with code SARAHBESSEY. Offer valid November 8-22, November 27-December 31 (excludes Black Friday sale weekend) and not combinable with other offers.)
How they empower women: Starfish Project restores hope to women escaping human trafficking and exploitation in Asia. They provide life-changing opportunities through Holistic Care Programs and social enterprise where women create beautiful jewelry and become managers, accountants, graphic designers, and photographers. Through our Holistic Care Programs, they provide vocational training, healthcare, shelter, counseling, and education grants for our women and their children. Starfish Project has employed over 100 women and has served thousands through Community Outreach Services.
---

JusTEA in partnership with East Van Roasters
My Pick: Purple Chocolate Tea Tin with Spoon $13 USD – It just isn't a gift guide for me without a spot of tea, is it? This sweet and indulgent Purple Chocolate tea is a blend of Organic Cacao Shells, Kenyan Purple Tea, Rose Petals. All 100% natural ingredients, rich in antioxidants.  The tea tins are one of my favourite gifts because even after the tea is gone, they are so useful around the playroom and garden. Plus these teas are non-GMO and Fair Trade. Curl up with a cuppa.
Other favourites:Earl Grey Gift Box orPurple Chocolate Tea with Handmade Mug Gift Box
Special deals: 20% off your order with the code SARAH20
How they empower women: A joint venture between Canadians and Kenyans, JusTea is Kenya's first-ever, small-scale farmer-owned, Artisanal Tea Factory! Together they are providing fair and sustainable wages for tea farming families including creating over 200 jobs for youth and women and partnering with a Women's Herbal Tea Co-op in Eastern Kenya.  Over 80% of the employees are women and they support hundreds of small-scale herbal tea farmers in their community. This particular blend is in partnership with East Van Roasters who are providing the cacao. Founded by The Portland Hotel Society, East Van Roasters employs women struggling with mental health and addiction issues in Vancouver's Downtown Eastside neighborhood. There, the women work as baristas and kitchen support staff, an experience which provides them with newfound skills, confidence, and independence.
---
BRIGHT ENDEAVORS
My Pick: Holiday Sampler Candle Gift Set $ 41.99 USDI do love lighting candles in the evenings especially now that it's getting dark by 4:00 p.m. *sob* Plus candles are the gift everyone loves so it would make an excellent gift for your co-workers. Lay in a good supply for the season and you'll never be caught on the back foot for a gift. The set include The Whitebark Pine Signature Glass, the Almond Berry Galette 8oz Retreat Tin, and the Holiday Citrus Mini Signature candles. Everything is made in Chicago, USA and 100% of proceeds support the young moms who create this candle.
(Note: Bright Endeavors cannot ship out of the USA.)
Other favourites:Starry Night at the Winter Lodge gift set or theVanilla Honey in multiple sizes
Special deals: 15% off with code BRIGHTBESSEY until December 31, 2018
How they empower women: Based in Chicago, Bright Endeavors believes that young mothers are a groundbreaking opportunity for family and community transformation. In their neighbourhood, young moms are often battling homelessness and poverty. In most cases, women are living in low-income communities without access to quality education or job opportunities. Under these circumstances, the barriers to an empowered life filled with hope and opportunity can be overwhelming. Bright Endeavors exists to partner with these strong women and help illuminate the path toward a brighter future. This shop transforms the lives of young moms by teaching them to craft premium soy candles in a supportive, professional environment. Through our paid job training program, we provide the guidance and job skills young moms need to secure quality employment and begin working toward professional success.
---
SUDARA
My Pick:Men's Arush Pant  – $54 USD. I bought a pair of these jammie pants for my own husband last year and he loves them. They are quite long and so actually fit him (he's 6'5″) which is a rarity. And sshhhh but there's a holiday gift set of them with a t-shirt for just $78 right now. These pants are super soft cotton and feel very nice to wear.
Other favourites: Kala Full Punjammies (P.S. These go up to size XXL!) or the Grey Mule Slippers
Special deals: 15% off your order with the code SB15 until January 31, 2019.
How they empower women: For more than ten years, Sudara has advocated on behalf of and empowered women who have escaped from, or at the highest risk of, human trafficking by providing dignified employment opportunities. They are a mission-driven lifestyle brand whose success is not just measured or defined in sales and revenue, but in positive social impact and the creation of long-term, sustainable change. Through their associated non-profit, Sudara Freedom Fund,they have an even greater impact on the lives of women and children in India by equipping even more women and their children with education and housing and micro-loans — tools needed to build and sustain a new life such as the Sunetha Home, supporting long-term, systemic change by directly addressing issues that lead to generational sex work.
---
JUST ONE
My Pick: Grey Three-Tone Silver Necklace $45 CAD – This beautiful three-tone chevron necklace was made in Kibera slums in Kenya from silver and recycled bone. Understated and elegant, it can be dressed up or dressed down for everyday use. It hits at just the right spot, in my opinion. I adore a long necklace.
Other favourites:Open Hoop Earrings or this child's necklace with a beautiful white heart tipped in brass.
Special deals: 20% off your entire order with the code SARAH20 until December 31, 2018
How they empower women: Just One is an organization that follows fair trade practices to offer world changing fashion.  Each purchase directly supports people around the globe struggling with poverty and brings awareness to their needs. Primarily working in Uganda, Just One purchases directly from local artisans who are mostly women and then also donates a portion of the profits back into the communities where they work and live.
---
THISTLE FARMS
My Pick: The Bath and Body Gift Set $48 USD – I don't know about you but I seem to buy a lot of bath and body products around the holidays for teachers, gift exchanges, and hostess gifts. Thistle Farms is your new best friend. All blended with 100% pure essential oils, this custom gift box features a variety of their best-selling body products. The Body Gift Box collection includes Calm Healing Oil, Enriching Body Lotion, Eucalyptus Mint Soak, and a soothing Tea Tree Mint Lip Balm, all formulated to provide healing benefits for the body and mind. No artificial fragrances with natural products blended with pure essential oils, it all comes in a curated mailer box packaged for a memorable gifting experience – so that's your wrapping handled, too.
Other favourites:The Love Heals Lavender Candle(I often light this one while I'm writing!) or theHealing Oils Kit for your essential oil lovers.
How they empower women: Thistle Farms' mission is to HEAL, EMPOWER, AND EMPLOY women survivors of trafficking, prostitution, and addiction. They do this by providing safe and supportive housing, the opportunity for economic independence, and a strong community of advocates and partners.
---
DIGNIFY
My Pick: Kantha Throw $98 This beautiful throw quilt is made from six layers of vintage saris, hand-stitched together by women in Bangladesh using the traditional kantha stitch. These quilts are the perfect weight for snuggling underneath on a chilly evening – not too heavy, not too light and always in high demand in the house. There are dozens and dozens of styles and designs including a classic white which was my mother's favourite buy of last Christmas (she uses it every single day). These throws make such a beautiful statement in your living room, you'll want to fold them over the couch even when you're not using them.
Other favourites:Hand-dyed indigo king size bedding or a set of new Kantha Stockings to hang by the fireplace for Santa to stuff a satsuma inside.
How they empower women: The blankets are handcrafted by women who were previously trafficked into or otherwise engaged in formal or floating sex work (or at risk) and are now employed in work that brings dignity & livelihood in Bangladesh.  The price of a Basha product pays for things like on-site day care, medical support, benefits such as an annual bonus & paid leave, ongoing education, as well as a fair wage to the woman to made it.
---
Noonday Collection
My Pick: Cusco Shawl$168 USD We have the candles, the tea, the bling, the books, the throw, the pillows…now we need a shawl! This beautiful and trendy Peruvian over-shawl has been sustainably crafted with alpaca and wool for plush softness and warmth. It's cozy with a conscience.
Other favourites:The wooly snowbound Christmas ornaments or the red-and-white Santa Lucia bag for work/school/running the world
(P.S. if you haven't yet read founder Jessica Honegger's book "Imperfect Courage" it is a fantastic and empowering read. AND it was endorsed by Matron Saint Brene Brown so….)
How they empower women: Often imitated, never duplicated, Noonday works to make a difference in some of the world's most vulnerable communities by partnering with Artisan Businesses – often women-run –  that share their passion for building a flourishing world. They develop these businesses through fair trade, empowering them to grow sustainably and to create dignified jobs for people who need them. Noonday believes that investing in a woman's economic empowerment impacts an entire community. You can read more about their business model here. What makes them different is their believe in fashion with impact, style with a story, work with dignity, and profits for a purpose.
---
My Top 24 Books for 2018
It is impossible to do both fiction and non-fiction altogether so you're actually going to get 24 books here, my friends. (These are my favourite books of 2018 – it doesn't mean they were released in 2018 but rather that this was the year that I read them.) Buy one or a dozen along with one of the throws or a scarf or some tea and you're all set for Christmas cozy.
A Place for Us by Fatima Farheen Mizra – I adore a juicy family drama with secrets and compelling, sympathetic characters! 
The Chilbury Ladies Choir by Jennifer Ryan – You know my weakness for WW2-era British novels with female-centric story lines…
The Great Alone by Kristin Hannah – No one writes complex women AND page-turners like Kristin Hannah. 
An American Marriage by Tayari Jones – incredibly written and a story that stays with you long after you close the final page.
 
The Marrow Thieves by Cherie Dimaline – my favourite from the Canada Reads competition this year. Indigenous youth centered dystopian future? TAKE MY MONEY.
How to Stop Time by Matt Haig – Time-travel + love story = a sure favourite
Ayesha At Last by Uzma Jalaluddin – Imagine if Pride and Prejudice but with Muslim characters in modern-day Toronto and you'll be as delighted as I was by this romantic comedy
Marilla of Green Gables by Sarah McCoy – I do love adaptions and inspired-by books. This one keeps the spirit of the original and fills in back story for one of our most beloved characters.
The Clockmaker's Daughter by Kate Morton – A perfect winter weekend read with a house-as-character, overlapping stories, flashes forward and back in time, and a mystery to solve. 
Nine Perfect Strangers by Liane Moriarty – Look, it's not her best but it's still very, very good. She's escapist fiction for me and a favourite for a weekend binge read. 
 
Kingdom of the Blind – the new Inspector Gamache book – by Louise Penny – I mean, of course. You know how I feel about Inspector Gamache.
Women Talking by Miriam Toews – I just finished this one and already knew it would go on this list. Devastating, wry, powerful, everything I love about every single thing Miriam Toews writes.
 
Tell Me More: Stories About the 12 Hardest Things I'm Learning to Say by Kelly Corrigan – We all wish Kelly was our big sister for good reason. I have always loved her memoirs but this is something special.
Everything Happens for a Reason (And Other Lies I've Loved) by Kate C. Bowler – One of my most beloved books this year. Kate's story is as powerful as her writing and that is saying something. 
A Light So Lovely: The Spiritual Legacy of Madeleine L'Engle by Sarah Arthur – I mean, you know how I feel about Matron Saint Madeleine. If you've been even moderately influenced by her or even simply intrigued, this is a great perspective on her legacy.
I'm Still Here: Black Dignity in a World Made for Whiteness by Austin Channing Brown – this is the book that my husband and shared in common this year. We could NOT put it down until we had read it all the way through and WHOA THOSE LAST THREE CHAPTERS. We were reeling. Incredibly powerful and necessary. 
Inspired: Slaying Giants, Walking on Water, and Loving the Bible Again by Rachel Held Evans – I love everything RHE writes but her newest book gives us so much goodness, creativity, and redemption. 
Shalom and the Community of Creation: An Indigenous Vision by Randy S. Woodley – This is a book that has profoundly shaped me this year. I'm grappling with my notions of "the kingdom" ever since. It's such a meaty, dense, wise, generous book.
Educated: A Memoir by Tara Westover – You almost can't believe this is a memoir, it reads like a novel. Fascinating and sparks so many interesting conversations. 
Braiding Sweetgrass: Indigenous Wisdom, Scientific Knowledge, and the Teachings of Plants by Robin Wall Kimmerer – beautiful and rich and deep, this is a book you could read and re-read for years. 
Mystics and Misfits: Meeting God Through St. Francis and Other Unlikely Saints by Christiana N. Peterson – I know very little about saints but I loved this book. Christiana is an impeccable writer and I really wish this book had a wider audience – it's gorgeous and brilliant. 
Anam Cara: A Book of Celtic Wisdom by John O'Donohue – I am new to John O'Donohue's work but this was a gift to me this year, almost like a lifeline out of the insanity and mud of the world.
Barking to the Choir: The Power of Radical Kinship by Gregory Boyle – Oh, my goodness. This is a book that changes lives.
Womanist Midrash: A Reintroduction to the Women of the Torah and the Throne by Dr. Wilda C. Gafney – This was my second book to read on Womanist theology and it was epic. I dont' think I'll ever recover from it. And I'll never be able to use the phrase "God of Abraham, Issac, and Jacob" without adding "and Sarah, Hagar, Rebecca, Rachel, Leah, Bilhah, Zilpah, Keturah.." too.
 
And what kind of a self-promoter would I be without adding my own two books to your wish list?
Hey, check out JESUS FEMINIST and/or
OUT OF SORTS: MAKING PEACE WITH AN EVOLVING FAITH!
Finally…
May your Christmas bring good to the world and hope to your own heart. Don't forget: maybe we all need just a little bit of love.
Love S.
P.S. In case you're wondering: I didn't take any compensation from a single one of these providers. I genuinely chose these shops because they are doing good work and I love their goods, too. Affiliate links are for Amazon books only.