When I was 18 years old, I moved away from home for university. And I didn't just move into residence, I went all the way from my home in Calgary, Alberta to Tulsa, Oklahoma in the days before texting and FaceTime or reasonable rates for long distance phone calls from our plugged-into-the-wall phones (in fact, my first email address was assigned to me from the Freshman Orientation team and I remember saying to my parents, "Why in the world would I need THIS?"). My parents drove me all thirty hours away from home, helped to set up my twin bed and ensured I had a fully loaded meal card and then they turned around to drive home.
It was hard and it was scary and it was the best thing I ever did. This is how we do hard things: we do them. We show up, we try new things, we meet people, we fail, we conquer our fears, we work hard, we fall in love, we fall out of love, we live on coffee and pizza and late-nights with girlfriends, we survive, and sometimes we learn who we are by learning who we are NOT first and that's okay, too.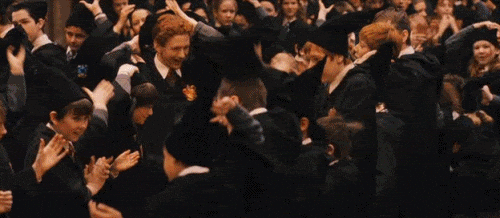 (What? You went to a Muggle University? Shame.)
I feel incredibly grateful for my high school education and also for my university education – I know that is a privilege that most women in the world do NOT yet experience (but give us time….).
With the coming graduation season, I've received a few questions from readers and pastors about which books I would recommend to the young women who are launching out into their adulthood this spring and this is my response. (Related: A Letter to the Young Women Reading Jesus Feminist)
(Of course, I know that not everyone who graduates from university is necessarily a young person and this is the best news ever, hallelujah. Get yourself to school if you want to go, who cares if you were legal to drink before most of these kids sitting next to you were even born? We are cheering you on, sister. For instance, I'm incredibly proud of my mother-in-law who went back to school when her youngest went to university and then she started her new vocation as a chaplain right around the time that most women of her generation were retiring. And my own beloved sister is headed off to school this fall – the same fall that her youngest child starts kindergarten, she's starting her master's degree. Eshet chayil, right?)
This is an incomplete list but a good start. Here are the books I would give to a young woman heading out into her adulthood. It's the stuff I wish I had known back when I was ordering $5 large cheese pizzas at midnight without a thought to my metabolism, bless.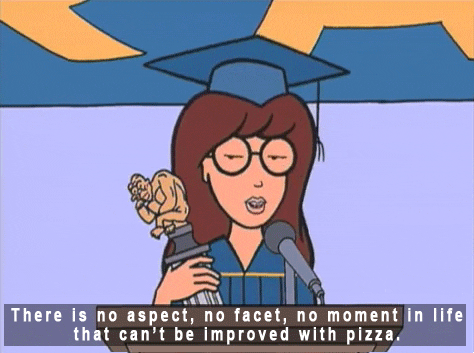 Common Prayer: A Liturgy for Ordinary Radicals by Shane Claiborne, Jonathan Wilson-Hartgrove, and Enuma Okoro This book came into my life through a friend, during the season of Lent in 2011. I have used it nearly daily ever since and I love it. I don't always do the singing (that seems more communal, I guess) but the readings and Scripture orient me every day.  I read it every morning, and sometimes the evening prayers as well. Bonus: a copy of the Message Bible.
We Should All Be Feminists by Chimamanada Ngozi Adichie – A must-read of all the must-reads. I'm pretty sure it should be handed out at graduations from the stage right along with the little scroll diploma thing.
Or you could just send her the link to watch the speech that inspired the book….
Daring Greatly: How the Courage to be Vulnerable Transforms the Way We Live, Love, Parent, and Lead by Brené Brown. Everyone and everyone has been reading Brené Brown and with good reason: this is a book with which to start your adult life – wholehearted and fully awake.
Traveling Mercies: Some Thoughts on Faith by Anne Lamott Almost impossible to choose a favourite Lamott book but this one just seems to always speak to me. I love her irreverence, her liberal ranting, her self-deprecating honesty, and I love that she is part of my big glory God-family. This is the book that taught me about the two most important prayers: Help and Thank you. This book will remind any young adult that life is long and sometimes hard and there is room for all of us and all of our mess in the Kingdom of God.
The Ragamuffin Gospel: Good News for the Bedraggled, Beat-Up, and Burnt Out by Brennan Manning If I could tell anyone to read one book about the Christian faith, this would be it. Hands down. Brennan Manning changed everything for me with this book, I have walked out my life as deeply loved ever since reading it. The truth that he revealed to me in these pages helped set me free from crippling people pleasing and approval addiction, and I fell head over heels in Love. I'd hand it out on street corners.
The Divine Conspiracy: Rediscovering Our Hidden Life in God by Dallas Willard This was one of the first books on Christian spirituality and theology which I remember truly devouring. I have always been more of a literature and poetry kind of girl, and I abhorred self-help-y books (still do, in fact). But Divine Conspiracy is brilliant, insightful, wise, and above all, changed how I viewed discipleship in the Christian faith. His passionate defence of Jesus as the ultimate example and true teacher of our life, as well as his discussions on the "smart" Jesus, and introduction of God's kingdom theology, stay with me still and influence how I live my life. 
Tiny Beautiful Things: Advice on Love and Life from Dear Sugar by Cheryl Strayed –I just happened to pick this book up without ever having read a Dear Sugar column or listened to the podcast. So zero expectations going in and I was absolutely dazzled. This book felt like standing in front of a blinding light. I loved it and I learned so much from it, even from "advice columns" that had nothing to do with me. It's ferocious and unflinching. (Head's up for anyone who finds a bit of adult language offensive – this one is salty.)
The Quotidian Mysteries: Laundry, Liturgy and "Women's Work" (Madeleva Lecture in Spirituality)
 by Kathleen Norris. This tiny booklet of a book gave me back my joy. That sounds a bit extreme, but it's true. I was in a season of sadness, perhaps depression, particularly worn down by the physical and spiritual demands of my small family and the near-constant "needs" of everyone around me. I felt stifled, like my work didn't matter, I was futile, and this made me angry in a simmering sort of way, all the time. I found my joy again through her words, because she helped to sanctify and bless and make holy these daily rhythms of a life. I've never looked at my laundry pile the same way since. I underlined almost the entire book. And I cried with relief, prayed a lot, and began to change.
Walking on Water: Reflections on Faith and Art by Madeleine L'Engle -This one is for the creatives – and head's up, that's pretty much most of us. I love everything she writes but this book changed how I saw myself as an artist, and a creative soul. L'Engle's words seemed to free some part of me, a connection was made between my faith and my art, I didn't need to be a "Christian writer" – instead I could be a woman of faith AND a writer. It sounds rather bald when I write it down, but the book was a catalyst, a game-changer for me. It felt like a big old permission slip from the hereafter.
A Woman's Place: A Christian Vision for Your Calling in the Office, the Home, and the World by Katelyn Beaty – This is a not-yet-released book (it's coming out July 19th so maybe a bit late for the 2016 crop of graduates.) But it's a great vision for Christian women to embrace work – in all its forms – and empowers women to embrace ambition and vocation as God-given. I'll be handing this one out quite a bit for graduations.
Adulting: How to Become a Grown-Up in 468 Easy(ish) Steps by Kelly Williams Brown. I figured I better have at least a couple of books which are practical and helpful in the immediate sense on this list and so here's the comprehensive handbook you need for everything from budgets to finding a place to live to boundaries.
Another choice for practical money management in particular is The Money Book for the Young, Fabulous, and Broke by Suze Orman.
And of course: Jesus Feminist and/or Out of Sorts: Making Peace with an Evolving Faith by yours truly.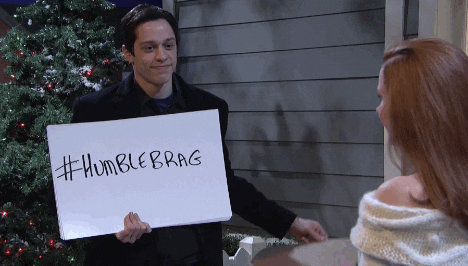 Your Turn
I asked the folks over at my Facebook Page and on Twitter which book they would give to a young woman who is graduating and the responses were so thoughtful. Here's a quick look at a few suggestions but this is just a small sample of responses from a pretty incredible reading list so check it out.
A journal and a note telling her to write her story, her ideas, her prayers as they happen; one day she will want to know her own journey. – Rachel Mokma Wallace
A really nicely bound edition of "To Kill a Mockingbird." Skip the prescriptive stuff and give her a novel and allow the story to shape her in its own way. Also, there are so many classic novels that I'm buying now because I didn't own any of my own as a young adult. A woman can never have too many classics, in my mind. – Nish Weiseth
The Proverbs 31 chapter from A Year Of Biblical Womanhood by RHE should be copied and given to every young woman we meet. The whole book is great, but that singular chapter… Just 💗💗💗 Eshet Chayil!!! – Karen McVey
Two books that changed me in late high school (they set me firmly on the path I still follow): Mere Christianity by C.S. Lewis (it grounded my faith in reason) [and] Out of the Saltshaker by Rebecca Manley Pippert (for many reasons:  loving Jesus so much that it overflows into your relationships with non-believers, and it gave me a picture of a strong, intelligent woman who was doing ministry) –Laura Mott Tarro
The Gifts of Imperfection by Brené Brown or Everything Belongs by Richard Rohr. – Karen Lee Sparks
Pablo Nerudas's *Odes tonCommon Things*, the hardcover edition with the facing pages translation. Northrop's *Women's Bodies, Women's Wisdom* – Kate Koppy
Boundaries – it revolutionized how I understood myself, relationships, and the concept of healthy – Tamryn Weber
The awakening. Ladies need some Kate Chopin. And hope for the flowers – Abby Norman
Any poetry by Mary Oliver or Edna st. Vincent Millay. Or Maya Angelou. ❤ – Shelly Nessor
It's been ages since I read it, but it popped into my mind as soon as I read your post: Gift From The Sea by Anne Morrow Lindbergh. I read it at about 19 or 20 for the first time. I think somehow it helped me think about how I want to live my life in light of all the changes that were ahead of me. – Kelli Weiffenbach Messick
I handed my precocious 12-year-old Life of the Beloved by Nouwen and she enjoyed it. I'm pretty in love with that one, too. It so well explains, we are loved, we are gifted, we are gifts, and sends us out to be gifts to all around us. – Juliet Blosser
The book that shook me up in the best way was 28: Stories of AIDS in Africa by Stephanie Nolan. It lovingly showed me how wrong I was about something I thought I knew. And from that lesson, it taught me to look deeper, to ask questions, and to let people tell their own stories. It showed me that the version of the world they talk about in small town, southern Ontario is just one of a thousand versions of the story and as grown-ups we need to look beyond the familiar and test to see what is really true. – Claire Colvin
Donald Miller's Million Miles in a Thousand Years, I read it my senior year of high school and it changed my life! –Krysti Wilkinson
Carry On, Warrior. It's nice to know we're redeemable before we even get sullied by the world. – Sarah Marie Paxson
Nice Girls Don't Change the World by Lynne Hybels  – Morgan Rainer Strehlow
Leaning In by Sheryl Sandberg. Such great career advice for women. – Beth Anne Ballance
Let Your Life Speak: Listening for the Voice of Vocation by Parker Palmer – Jennifer Cameron
 Jane Eyre. A brave, powerful woman who pushes past obstacles in her life, and asks for what she wants? Yes please. – Abby Galbraith
@sarahbessey Bossypants and/or Yes, Please – gave both last year to my cousin along with Mindy Kaling's Is Everyone Hanging Out W/O Me

— Barbara Dunlap (@wifemothernerd) April 20, 2016
@sarahbessey I always give Girl Meets God.

— Laura Leonard (@lmarieleonard) April 20, 2016
@sarahbessey oh the places you'll go, women who run with Wolves, anything by Alice walker, Sonia Sanchez or Nikki Giovanni

— Rozella Haydée White (@rozellahw) April 20, 2016
Remember: there are a lot of us women a bit further up the road who are out here cheering you on, graduates. Eshet chayil! Women of valour! And welcome to the mom jeans party!
Your turn: If you were invited to a young woman's graduation party, what is the one book you would give to her as she embarks on her adult life? Or rather, what is the one book you wish someone had given to YOU when you embarked on adulthood? (And P.S. by "one book" I'm assuming you know "other than the Bible" is inferred.)
aff links