I have a theory: Buddy the Elf was created by someone who hangs out with toddlers and preschoolers.
More specifically, Buddy the Elf just might be my little preschooler in disguise. Or she's Buddy in disguise. Whatever. Watching that movie opened my eyes to the truth: I live with Buddy the Elf and she's pure magic when she's not pure innocent trouble-making mischief.
Here's why:
1. When confronted with the mall Santa, she ran at full speed straight to him and launched herself into his arms: SANTA SANTA SANTA. She held onto Santa like she was Amy March and Papa had just returned from war to his little women. She hugged the elves. She hugged the trees. She nearly wept with joy at the sight of him.
But here is the thing: we don't even really do the whole Santa thing. Santa fills the stockings at our house but even with that, all the tinies know it's a fairy tale game that Mum and Dad play with them for fun at Christmas (because my husband can't abide the thought of lying to them and having to experience this moment):
And yet she does this at the mall:
2. This exact thing has happened in my real life with my real child at a real airport.
Omaha, our apologies.
In her defense, her six-year-old brother totally participated in the fun.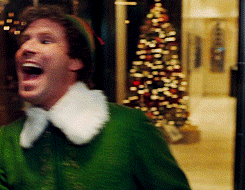 3. "Hey, Evelynn, what do you want to eat for breakfast?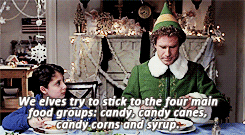 Hey, Evelynn, what do you want for snack?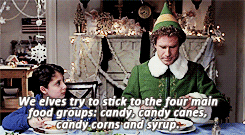 Hey Evelynn, what do you want for lunch? for supper? for Christmas supper?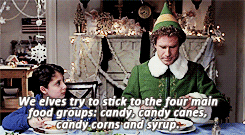 4. This is how we cross the street.
And walk on the sidewalk.
And really this is how she moves in general.
5. Us, at the mall, yesterday: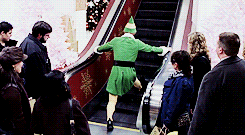 6. Christmas morning at my house.
Actually, scratch that: this is most mornings at my house. If we could harness her joy and energy at EVERY! NEW! MORNING! we could power a continent.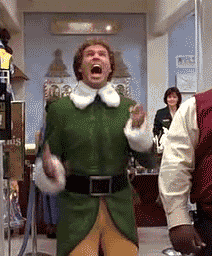 7. Not only have we actually experienced this moment in an elevator (thankfully it was only 28 floors and not the Empire State building), but she finds beauty in the most unexpected places. The other night I was scrubbing the washrooms – not the most glamourous of jobs, you must admit – and yet she unrolled the paper towels and clapped with delight over how it was SO PWETTY, MUMMY! SO PWETTY!  Paper towels, folks. Don't waste money on Christmas gifts for this set – a cardboard box, paper towels, and a roll of Scotch tape will keep them happy for daysssssss.
8. I can't keep up with the fresh new ways she invents to make trouble. Just when I think I have her figured out, we have had days like this. I can't stay two steps ahead of this one; she's too busy blazing unseen trails. And so this conversation happens on the regular, and by the time she's done repenting for some wrong-doing with tremendous crocodile tears and sadness, I'm the one who feels like a big jerk.
9. She takes whatever we all say very literally. At the Dollar Store, she asked our cashier why she had so many keys on her necklace. The lady – no doubt worn out from a long shift – sarcastically dead-panned that they were the keys to the castle. Evelynn shrieked, "YOU HAVE A CASTLE?!? THAT IS AMAZING! YOU ARE A PRINCESS!"
10. All she wants in the whole world is to be with her family and to have fun together. This is her idea of a perfect day. And it's my life mission to make this happen for her: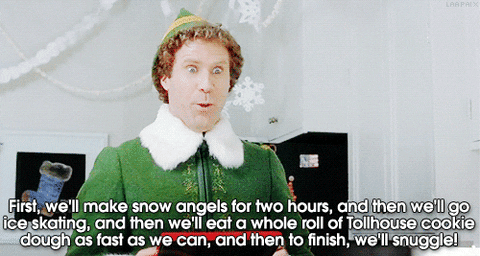 Resistance is futile, my friends.
This is her core emotion about her family and friends and, really, life in general.
And who am I kidding? It's totally how we all feel about her, too.