I am so excited about this year's Christmas Gift Guide! I know we're all choking on gift guides these days – there's one for mothers who love video games, one for children who are obsessed with Minecraft, another for the boss who has everything. I get it. So I wanted to offer up to you a different sort of gift guide: when you purchase something from these shops, you empower vulnerable women. 
When we empower a woman, we empower a community. Every one of the shops listed here empowers, educates, affirms, supports, or employs women all around the world. They range from large organizations to small grassroots shops.
I picked a favourite from each shop myself but don't let my pick fool you – there's a lot of good stuff in each of these shops, including for the men in your life!
If you've read any of my books or posts over the years, these folks are familiar to you, I know. I'm on the board of Help One Now and I believe in our work with all my heart. We are a collective group of churches, businesses, communities and individuals from around the world, all dedicated to using our gifts, talents and resources to help end extreme poverty, care for orphans, rescue slaves, and see communities transformed by serving our international partners through Help One Now.
You can help us sustain a community by purchasing this 2015 Legacy necklace made in Haiti: hand-punched leather sequins and brass accent beads. The funds raised by this necklace will go towards funding 12 classrooms, hiring new Haitian teachers, providing supplies, everything.
The necklaces are designed and made by the artisans at Haiti Design Co-op (another great place to buy Christmas gifts).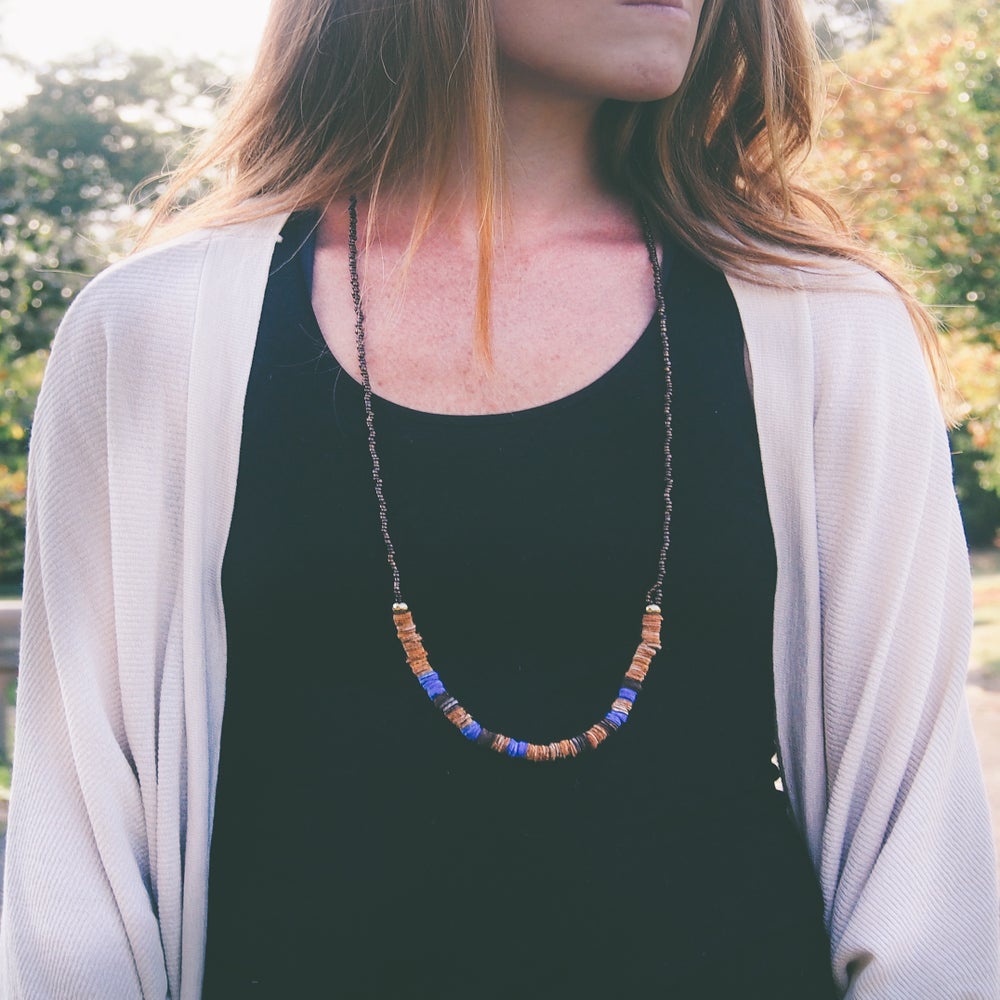 Imagine Goods partners with vulnerable and marginalized people around the world to make products that, in many cases, give them the first fair wages they've ever received. Imagine Goods takes a close look at the entire chain of people who are involved in making their products, particularly in Cambodia. Their tag line is "Sustainable Supply Co." because they believe that when we buy a product, the cost of the item should be able to sustain every person connected to it with a living wage.
We worked with Imagine Goods to create the Jesus Feminist Collection about a year ago. 100% of the profits – yes, that's all of them – from this line go towards Heartline Maternity Centre in Haiti and towards Help One Now.
My Pick:
This simple circle necklace stamped with "Jesus Feminist" makes a statement with class. Made in Cambodia by disadvantaged artisans of brass recycled from old bombs, and hanging on an 18″ brass cable chain, it arrives in a 100% recycled jewelry box—perfect for gift-giving!
Another Pick for the woman of valour in your life: this Eshet Chayil print.
House of Light is a joint partnership between my church and a family centre in Mexico. The goal is to keep families together by supporting and empowering single moms, allowing them to break the cycle of poverty, abuse and despair and live lives of wholeness and hope. Their work includes a Children's Centre, focused on single and impoverished families, a pilot micro loan program for education and business development, an ongoing partnership for home ownership within the community, and a deep local commitment to the spiritual growth, empowerment and development of the community. Each scarf from House of Light Goods is handmade by single Moms and friends of Casa de Luz, with all of the profits going towards supporting single moms and children at risk.
My Pick: The Justica. I have this scarf and every single time I wear it, it's all I hear about! If you are dreading a freezing cold winter, this scarf is going to be your best friend.
Their mission is to empower people to rise above poverty. Through their efforts, over 150 people in Uganda and Peru are working, receiving education, and being mentored toward a brighter future.  The products created abroad have been well received here at home and the collaboration of our staff and beneficiaries around the globe has created a sustainable cycle of employment and empowerment. Plus each piece is signed by the person who made it – which I love. My dear friend, Sarah Goodfellow, and her husband, Blake, pioneered Krochet Kids in Peru.
My Pick: Everyone loves Krochet Kids for their gorgeous hats, of course, but my personal favourite is this bag. I love a great big glorious bag like this one for carrying around a hardcover book in addition to the usual mum-stuff like diapers and changing pads and sippy cups and permission slips and snacks. Oh, and my wallet.
But I've also got my eye on this sweet little fox hat for one of the tinies….
Noonday offers you the opportunity to use your purchasing power to create change in the world while looking really good along the way. Your love of fashion can restore dignity to abandoned women in Ethiopia, empower communities in Ecuador, and create business opportunities for Ugandans. Orphan care and prevention remain a core value. Noonday believes every child belongs in a family and they work to alleviate poverty and economic orphan crisis through entrepreneurship.
My Pick:  these sterling silver Constellation Earrings – both edgy and delicate.
The fashionABLE mission is to create sustainable business for Africans so they will not become dependent upon charity, but instead earn the dignity of a job. While FashionABLE offers opportunity to everyone, their primary focus is on empowering women.  Through your purchase, you are ABLE to provide opportunity, and a woman is ABLE to have a new choice.
My Pick: Really, their entire 2015 Gift Guide is phenomenal. So many gifts for everyone on your list. But I chose the Kalkidan wallet for men because my husband loves to grab just one or two cards for the day instead of carrying around the whole big wallet for everything and this slim-line minimalist leather wallet is just perfect for that. It comes in three colours but I'm loving cognac.
Trades of Hope empowers women to create sustainable businesses worldwide. They want women to realize their potential as world changers, business owners, dream creators, and heroes of their own stories. So many women live in poverty, not because they lack abilities, but because they lack opportunity.  Some women have been rescued from sex slavery. Others are raising handicapped children alone. Some are in war torn countries and others have AIDS. These women have never had the chances we've had, yet they are just like us in so many ways. They love their families and hope and dream of a better life for them.
My Pick: The Erin Scarf. I wear a scarf almost every day of my life – lightweight, preferred – and this is so beautiful. It would go with everything.
Sudara advocates for women enslaved in prostitution in India, restores their broken lives, and empowers them to live free. What started with just six women sewing in a single room has grown to over 150 women and girls employed by one of Sudara's three sewing centers in India. PUNJAMMIES are made from hope and made for comfort.
My Pick: The Dhana punjammies bottoms. But really, they're all gorgeous and jammies are my love language.
This shop features goods made by seamstresses employed by Abide Family Centre in Uganda. They design their own products and buy all materials locally, supporting the local economy and allowing for sustainability as seamstresses graduate from their programs and begin working from home to build their own businesses.
My Pick: The Sumi Headwrap. For those days when you didn't quite manage to get your hairs done before the day began – you're welcome.
And of course, shameless self-promotion moment —- with all of these gifts, you could include a copy of my new book, Out of Sorts: Making Peace with an Evolving Faith along with one of these lovely free printables based on the book.
Happy Christmas shopping!
Let's do a bit of good with our spending this year, eh?
P. S. If you would like to share some  info about a shop that empowers women in the comments, please feel free!
Image sources via shops