Big news, my friends!
The e-book version of my first book Jesus Feminist is now on sale for just $3.99!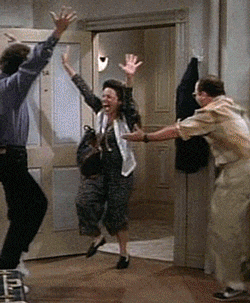 That Seinfeld GIF is totally for my sister who is still obsessed with that show. #SpongeWorthy
Now I haven't seen the price for Jesus Feminist this low in a long while so if you have been wanting to grab a copy or to give one away or to start a book club, this is the time! I'm told that this special price is ONLY available until March 5, 2017.
Here are the links for your e-readers:
if you have a Kindle, head to Amazon.com  
if you have a Nook, head to Barnes & Noble
if you have a Kobo, head to Chapters Indigo
Happy reading!