One of the neat tools available to bloggers these days is the ability to see from where in the world people are reading your blog. It doesn't tell me where you personally live, obviously, just that someone from such-and-such town has been reading. And over the years, in addition to my usual Canadian and American readers, I consistently have a good showing of readers from the UK and Ireland and Australia – my Commonwealth friends. And yet I have never been to any of those countries for a speaking engagement or even a holiday in my life…until now, my friends.
At the invitation of Maria Rodrigues, the host of Premier Christian Radio's Woman to Woman programme, I loaded up my seven-month-old baby, Maggie Love along with my husband, and hopped over the pond.
Me for the past few weeks to anyone who would listen: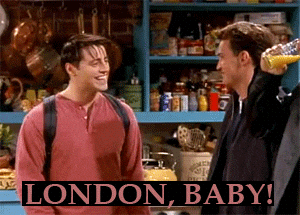 I was so honoured to be asked to speak at their annual gathering in London called Woman 2 Woman along with a few others (all of whom were amazing, I might add). Maria is lovely. We've chatted a few times over the years and so it was fun to actually do an interview live and in person for a change! (You can listen to our chat here.)
Here's the plain truth: I was intimidated. Sometimes I wonder what in the world God is thinking. How did someone like me end up on a stage at Central Hall Westminster in London to preach to all of these amazing women? Gah. Ridiculous. I was preaching at my home church just last Sunday in my jeans to my friends and now here I was at a historic church with total strangers and pants that didn't fit quite as well as they did before that fourth baby.
But on top of that, Maggie didn't exactly love the time change and I was DRAGGING. The tiredness probably made the nerves a bit worse, I imagine, but there I was on Saturday morning, exhausted and just a bit terrified and feeling inadequate to the task. I put out a call on Facebook and Instagram for prayer and you all SHOWED UP.
Oh, my goodness. I drew so much strength from your prayers and your encouragement. And the day was so powerful, so beautiful, so REAL. We were discussing the topic of rejoicing in the Lord always – but it wasn't about pretending or faking it or minimizing suffering. Rather, every speaker delved right into what it means to rejoice and made space for those who are finding it difficult or impossible. It was a powerful time of worship.
At one point, I just sat down and soaked in the voices of all these women (and a few men!) as they sang together, right in the heart of London, and lifted up the name of Jesus. I won't ever forget it.
The truth is that God uses the "wrong" people all of the time to do the weirdest stuff, so I keep showing up and praying that I make much of our Jesus. 
Plus it was so nice to realize that all those little stats of "UK Readers" are actual real people. We got to hug, shed a few tears, and say hello in real life which was tremendous. In so many ways, London felt like a homecoming. New friends felt like old friends very quickly.
And then we did a whirlwind day of sightseeing as a trio before hopping back on the plane to head home, hitting up the major sights.
London was even better than I could have imagined and that is saying something. 
At the book signing, Brian stopped by the hall with Maggie. During the days, he puttered around London with her in the stroller, seeing a few spots. We would reconnect every 2-3 hours so that I could nurse her and then they'd be off again. Brian and I don't travel much (read: at all) and so this was an enormous treat to be here together for once. Anyway, he stopped by the hall with Maggie during the book signing and his line was just as long as mine but then again he did have the baby so unfair advantage, right? Brian loves to get out and meet everyone as much as I do – it's a wonderful reminder about how small the world is and how connected we are to one another.
We arrived back home today. Maggie is a bit sick, poor girl, after the plane ride so we are just having a laundry/tea/quiet day here.
My parents looked after the older three here at our place while we were gone. I came home to a house that has never been – and probably never will be again – so clean! (Even my toaster got a scrubbing and I am glad, it was practically a fire hazard.) I am so grateful for their help and for their constant support and prayers. Whenever I waver, they are behind us saying, get out there, go for it, we've got you covered here. And that is a gift beyond reckoning, I know. It was so good to see the tinies again – lots of hugs and stories and laughter.
And I'm so happy to be home, back where I belong.
---
Good news for you, UK readers!
But before I forget, I wanted to tell my UK readers that I have some great news: Out of Sorts was released early for you! 
As you know, typically a book releases in the UK a few months after the North American release. Well, when my lovely UK publisher, DLT, discovered that I was going to be in town, they put a rush on everything and got the book printed in time for the event. Three cheers for DLT!
So UK friends: Out of Sorts is ready for you now, you have first dibs. You can buy a copy anywhere you usually buy your books, of course, so ask your local bookshop to order it in if you don't see it. Otherwise, you may purchase it on Amazon.co.uk right now!
---
I'm home now until after Christmas but my 2016 travel schedule is coming together. Check it out here – maybe I'll be in your neck of the woods.