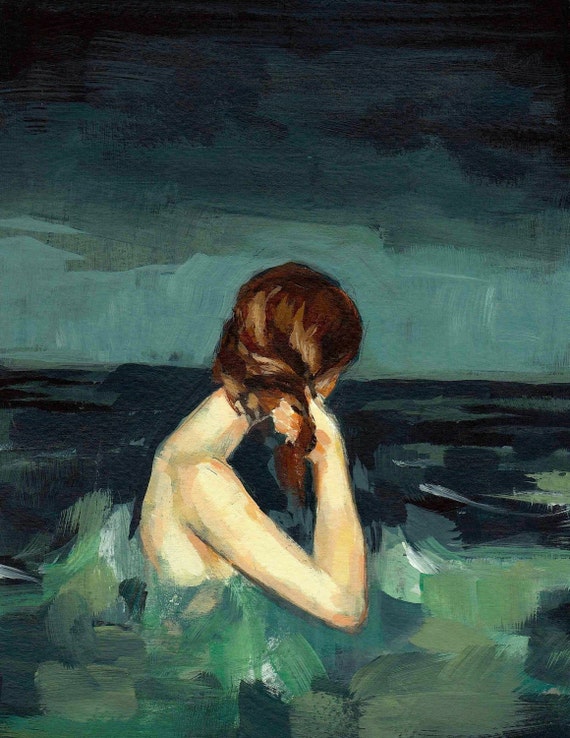 I stand in the front row of the church – a few dozen of us in a community centre – clapping along to the repetitive and simple praise choruses about the exodus of Israel or the blood of Jesus or repeated proclamation of hosanna. The horse and the rider is thrown into the sea! Three tambourines in a small room make quite a racket. The ladies wave banners, the children dance. (Praise songs are fast, you see, and worship songs are slow, that's why this part of a Sunday service is called Praise AND Worship.)  I'm overly earnest even for a seven-year-old so I dance when everyone else dances, I know all the words. I throw my skinny child arms into the sky and sing loudly: as the deer panteth for the water, so my soul longeth after you. 
***
I'm sitting on the warm dirt in front of a campfire in Kananaskis Country, I'm surrounded by my friends. I'm leaning back against a boy's legs, his hand is tracing circles on the back of my neck. We're all tanned and we smell like sunshine. We are staring into the fire or up into the night sky. One guy is strumming a guitar quietly, without words. My breath is slow, I feel held by the stars and by the Spirit.
***
I'm standing in a gigantic stadium, thousands of people surrounding me. The music is loud, deafening. It's dazzling – all of this incredible music, all of the noise, all of the anthems. We sing songs of the victorious, the conquering, we are being rallied to a cause greater than ourselves. I am singing along. I feel like crying, feel like jumping, feel like running. I feel alive, every cell thrumming with passion. Look at us, so young and beautiful and blind, testifying to love in three part harmony.
***
The liturgy of the charismatic evangelicals is empty to me now. Dead religion perhaps. Every prayer begins with Father, we just….
Father, I just can't hear you here anymore. Maybe I never did.
***
I'm laying flat on my back beside a stream, holding hands with the boy I think I'm going to marry. We aren't talking anymore. My mouth is still filled with his kisses, but my body feels like prayer.
***
I'm standing in my side-yard in Texas, smoking a cigarette and praying in tongues. I'm married to a pastor and every Sunday I want to skip church. I'll listen to k.d. lang and long for home, I don't know what to call this season of my life but someday I will know that I was grieving, I was growing, I was evolving. I was worshipping, I was abiding, I was a mess but I was honest at last.
***
I'm heavily pregnant and kneeling at the altar rail in the cathedral. When I couldn't find my way back to Jesus through the clutter of praise and worship, I found him in the silence.
I light a candle and bow my head. The only sound is the faint noise of traffic from the urban rush and go just outside the narthex. I'm alone here. No one comes here.
I'm alone and I find myself humming, as the deer panteth for the water so my soul longeth after thee. And I raise my hands up in the air and the baby kicks and I cry and cry and cry with relief and longing.
Oh, here you are. I thought I'd lost you. I thought I'd never feel this again.
***
I'm working in an office just down the hall from the multi-purpose room filled with the bravest women I know in my real life. I listen to these beautiful women sing about being redeemed, I know their stories, there is a long road ahead still, and I lay my head down on the cool white Ikea desk and breathe in their faith.
***
I'm standing in church with a toddler on my hip, more children at my feet. I'm distracted, always distracted, during the singing because my life is full of the needs of everyone else. I pass the baby to my husband, hoist a too-big boy up into my arms and sing the songs into his hair. My hands aren't in the air, my hands are filled with meeting a need. We are the happy-clappy ones singing the Vineyard songs, and I'm so happy I might cry.
***
I'm standing under a canvas roof in the tent city of Port au Prince after the earthquake. Then sings my soul, we cry out, my Saviour God to thee, how great thou art, how great thou art. There is a little girl in a blue gingham dress trimmed in printed strawberries and she is singing. She was sweeping a dirt floor just a few moments ago. I'm out of place but my hands are open.
***
I'm holding a sleepy child, my great ministry. We rock slowly in the midnight hours. We are silent together, a small head pressed up against my breast, listening to my heart beat. I've wrapped us in a quilt, the rocker creaks, and a small hoarse voice says, "Mumma, will you sing the song?" I begin to whisper-sing into the darkness: as the deer panteth for the water so my soul longeth after thee. You alone are my heart's desire and I long to worship thee.
I think, Other children hear songs about mockingbirds, I really need to learn those songs one of these days. The old praise-and-worship songs are the cradle songs of the tinies. When he finally sleeps, I lay him in his bed and stand alone again. I light a candle in the darkness, for the silence, for the other mothers still awake. I stand for a moment. Then I blow it out and go to bed.
***
I catch sight of a woman sitting in the front row of church. She's old, very old, and she sits in her Sunday clothes and her small hands are raised up in the air, barely. An old Keith Green song. No one behind her would know her hands were up, but I can see her singing quietly with her fists unclenched.